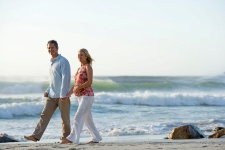 Here's an alternative cure that's so simple, you might not even consider it a remedy to fight those nagging symptoms that have been plaguing you of late. It involves a type of exercise—walking—but in a very special environment. According to researchers at the University of Bonn in Germany, if you want to get the most health benefits from your walk, make sure it includes a stroll by some water.
Water has become one of the most important landscape elements in urban areas to promote harmony and balanced mental health. It's no secret that children are immediately cheered by the prospect of splashing in a pool or fountain. The same is true for adults, according to the German researchers—although without all that splashing.
To boost your health, all you need to do is walk along a promenade beside some water—whether it's a natural river, lake, or manmade stream. According to the researchers, the need for recreational or "healthy" places, like water promenades, in cities is increasing. Unfortunately, most current urban planning is conducted without taking the beneficial health effects of water into account.
The researchers decided to study two "therapeutic landscapes:" one promenade on the river Rhine in Cologne; and one similar water path in Dusseldorf. The researchers used a complex series of tests to determine the health benefits of promenade walking.
Results showed that water promenades are a favorite place to spend leisure time and to engage in recreational activities, in addition to providing restoration from everyday stresses. Water was a strong predictor of positive emotions and experiences in the urban dwellers studied.
The next time you're feeling a little stressed, a little under-the-weather, or have a case of the blues, head outside and go for a walk near some water. Repeat this activity as much as you can until you start to feel healthier and happier.
For info on how to use another therapeutic landscape to heal your body and mind, read the article "Fight Stress by Going Green."
Sources for Today's Articles:
Why a Walk by the Water Boosts Your Overall Health
Volker, S., et al., "I'm always entirely happy when I'm here!" Urban blue enhancing human health and well-being in Cologne and Dusseldorf, Germany," Soc Sci Med. December 12, 2012.